The other day, during a bout of procrastination, I found myself thinking about astronauts, space travel, rockets and aliens. To my surprise I discovered a few novel-writing similarities.
Here is my list:
Your initial enthusiasm for writing your novel can be likened to a rocket ship launching off from its pad, engines roaring and a crowd watching it power into the sky. The thrill and buzz of writing a novel will see you blast into your opening chapter. Struggling to contain your literary excitement, you will make a lot of noise and feel unstoppable, due to the force and thrust of your creative engines. Loved ones will stand and proudly watch you power through the first chapter. Some writers might find they are a bit low on rocket fuel come the second chapter and will be forced to throttle back on the enthusiasm.
At the start of a space exploration there will be a lot of excitement about what will be discovered out there in deepest darkest space. This will be intermingled with some fear and trepidation, as the exploration will venture into the unknown. The same feelings are experienced by you, the writer. You will be breathless and excited at the thought of what you might find as you hammer out 70k words. However, at the same time you will be feeling a little anxious, as you will also be journeying into the unknown. Loved ones will hear you whisper, 'to boldly go where no writer has gone before with…romantic comedy.' *sigh*
Whilst exploring space you will encounter strange new worlds and new alien life forms. You might befriend these new spaces friends, you might find yourself living in fear of them, you might try to rule them or you might even find yourself becoming emotionally attached to them, especially the ones who look like E.T. As you write your literary masterpiece you will also come into contact with new worlds and a weird race of invisible people called fictional characters. You might befriend your characters, you might live in fear of them, you might try to rule them or you might also find yourself becoming romantically attached to the good looking ones with a mischievous glint in their eyes. Both aliens and fictional characters should be handled with care.
Chances are things won't always go to plan as you explore space. Your space craft might have engine failure or you might be knocked off course by an asteroid. When you write a book nothing ever runs smoothly either. You must be prepared to face similar issues to the astronaut. A writer might experience Writer's Block (their own form of engine failure) and they might also be knocked off course by an unexpected flurry of social media activity (the writer's own version of an asteroid belt).
Space can make people go a bit strange and so can novel-writing.
Space travel can get lonely and so too can writing a book.
You will return from your journey into space looking different. The effects from space can wreak havoc on your body. After writing your novel you will also look different. The effects from novel-writing can also wreak havoc on your body. As you approach 70k words plans such as getting your hair cut, having a shave, eating sensibly, cutting back on caffeine, showering, getting an early night and wearing anything other than pjs will all be ditched.
Due to advances in technology astronauts can keep in touch with Earth and let them know how their mission is going. Writers can also now keep in touch with the literary world and let it know how their novel is coming along. It's called Twitter – #novelhasbeenbinned and #pileofliterarywrongs and #hateallmycharacters
There is always a lot of nervousness when astronauts return home to Earth. Will they get back safely? Will they crash-land? Will they make it through the atmosphere? There is also a lot of nervousness when it comes to a writer finishing their draft book. Will their book's ending be strong? Will the reader be left wanting more and will they even make the ending?
People will struggle to believe your tales of space exploration when you return as they will not been on your journey with you. They will have not witnessed the dark times in space where you thought all hope was lost and the mission came close to being aborted. People will struggle to believe the novel-writing tales you tell, as they didn't accompany you across 75k words. They will not have endured the dark times where all hope was lost in chapter eight, where you cried over chapter ten, where chapter twelve caused you to pour yourself several large glasses of wine and how your novel came close to being chucked on the bonfire in chapter fifteen.
Stay calm out there writers.
Keep exploring!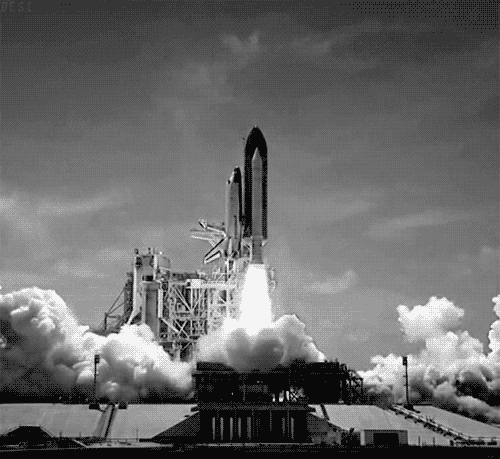 Have a great day
photo credit: NASA's Marshall Space Flight Center <a href="http://www.flickr.com/photos/28634332@N05/29926479591″>#TBT: Second Crewed Skylab Mission Returns to Earth — Sept. 25, 1973 via photopin (license)