Blogging can be so much fun when you are making your readers smile, getting some shares on social media and letting out soft moans of creative pride as you gaze longingly at your blog.
Blogging can also make you want to stick pins in your eyes. After a couple of unsuccessful posts (usually the ones which you spent days crafting), no shares on social media and a good dose of blog envy for your friend's blog, which looks amazing and makes your blog resemble something a nine-year old would create, your blogging mojo can disappear.
Some weeks blogging will make you feel like this..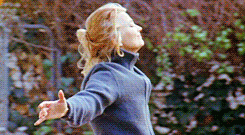 And some weeks it will leave you looking like this.. If you lose your blogging mojo you can expect to experience:
A struggle to create blog posts.
A sad face when catching sight of your blog.
Social media lethargy.
Once your blogging mojo vanishes it can take a few painful weeks for it to return.
Here are my top tips on rediscovering your blogging mojo:
Forgive yourself. Blogging on a regular basis is tough. Your enthusiasm for blogging is going to fluctuate. Stop beating yourself up for not feeling the blogging love.
Remind yourself that no one can't write epic stuff all of the time. This is a magical phrase that I repeat to myself a lot when my blogging mojo has vanished. Once you say this phrase a couple of times you will start to feel better as the ton of pressure you have piled on top of yourself will lift.
Don't go visit new blogs for inspiration. You will find lots of advice on this subject telling you to go visit new blogs when feeling low about blogging. Don't! It won't give you inspiration. It will just make you feel worse as I guarantee you will stumble upon either a beautiful looking blog or you will see other bloggers getting loads of shares / engagement.
Perform a random act of creative kindness. I don't know why but this works. Whenever I feel low about anything creative I do this. These acts of kindness include; giving social media support to another blogger's post / podcast / book etc, tweeting the hell out of other blog posts related to your niche, offering to do a guest blog post, or writing a book review and sticking it on your blog. I guarantee the buzz you will get from a random act of creative kindness will make you feel a lot better.
Create posts around personal experiences. In my experience posts which include a little piece of you / stories from your life do well in the blogging sphere. When I am struggling to create posts I use bits of my own life. You don't have to share everything but I think personal experiences help readers connect with your posts.
Experiment. This is a great time to experiment with a new blog theme, colour scheme, post style or publishing times. Changing one aspect of your blog can make a difference.
Pin your mojo away. Pinterest is not only a great stress reliever (there's something very comforting about pinning visually pleasing images, thought provoking articles and motivational quotes) but it is also a fab driver of blog traffic. The beauty of Pinterest is that you don't have to pin lots of your own stuff either to get things going. I would strongly recommend you to read up on some Pinterest strategy posts if you not yet all over Pinterest.
Give an old blog post a new lease of life. This task gets you feeling creative again and at the end should give you a warm and fuzzy feeling. Choose an old blog post. Head over to Co-Schedule Headline Analyser and start playing around with new blog post titles. See if you can get a high score with a new title and one which the search engines will love. Once you have new title head over to a free blog image site like Upsplash or StockSnaps. Choose a striking image. Go for something eye-catching. Go back to old post, add new title and image. Play around with the post, freshen it up by rewriting bits and make sure all your links are working. Research the best hashtags and add them. Zap it across all forms of social media. Tweet and post the hell out of it! This act of giving an old blog post a new lease of life always helps get my blogging mojo back.
Your mojo will come back or if it doesn't walk away. Life is too short for doing stuff which doesn't make us happy.
Anyway, don't worry about your blogging mojo for now as you have work to do – crack on with some random acts of creative kindness and overhaul an old blog post!
Take care out there bloggers.
Have a great day!
Image: Upsplash